In November 2019 a group of UNDC staff and students accompanied the UCAM team up the valley for two days and one night to collect water and sediment samples, measure river channel characteristics and take drone footage of the sites. We stayed in Catahuasi and set up a temporary field laboratory in the hotel dining-room. Before dinner, we processed and prepared the water and sediment samples for analysis both later that evening and at laboratories in Lima.
En noviembre de 2019, un grupo de personal y estudiantes de la UNDC acompañó al equipo de la UCAM al valle durante dos días y una noche para recoger muestras de agua y sedimentos, medir las características del canal del río y tomar imágenes con drones de los sitios. Nos alojamos en Catahuasi y montamos un laboratorio de campo temporal en el comedor del hotel. Antes de cenar, procesamos y preparamos las muestras de agua y sedimentos para analizarlas esa misma noche y en los laboratorios de Lima.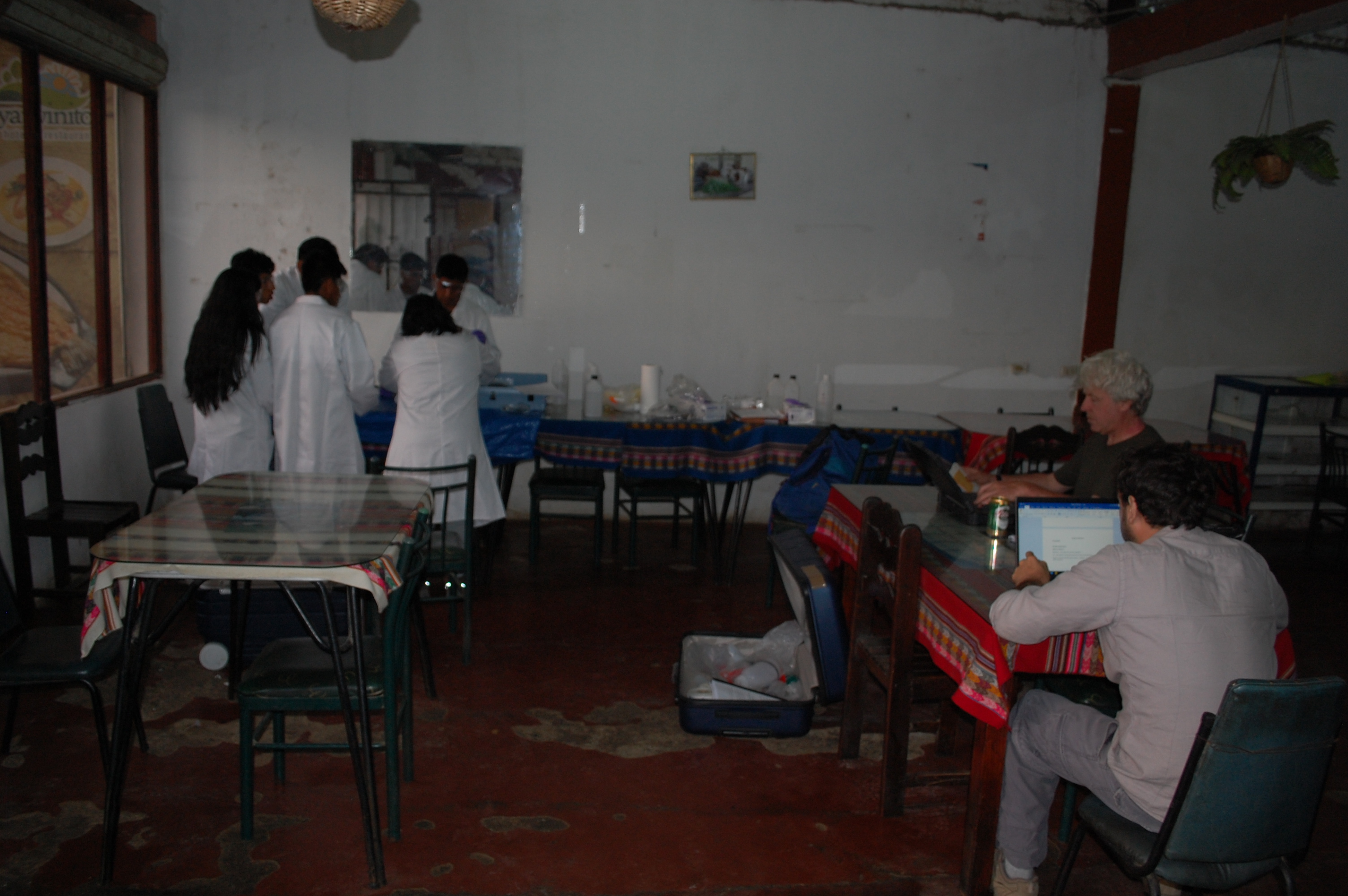 Rio Cañete: Field laboratory
After dinner, the UCAM team, and UNDC staff and students carried out various tests on the water samples, including titration - a test of alkalinity levels. Staff and students were required to adopt the same health and safety measures as in the Lunahuana laboratory - laboratory coats, gloves and at times, protective glasses.
Después de la cena, el equipo de la UCAM y el personal y los estudiantes de la UNDC realizaron varias pruebas con las muestras de agua, incluida la 'titración', una prueba de los niveles de alcalinidad. Los docentes y estudiantes debían adoptar las mismas medidas sanitarias y de seguridad que en el laboratorio de Lunahuana: batas de laboratorio, guantes y, en ocasiones, gafas protectoras.